Do you need to find the best roof rack for a rooftop tent?  Find out how to choose the right roof rack for your car and camping style. 
At Yakima, we have a range of roof racks suitable for any vehicle. Rooftop tents are great for the experienced or novice camper as they provide convenience and comfort.
While rooftop tents might seem like a luxury camping item, you'll find there are so many benefits. Rooftop tents are great for all seasons as they get you up off the ground. A rooftop tent ensures you and your team of campers stay dry in the winter and catch a cool breeze in the summer you'll also steer clear of creepy crawlies all year round. All while creating the ultimate mobile base camp that protects against the elements. 
OUR FELDON SHELTER TENT
Our Feldon Shelter Tents made from Ripstop polyester fabric and has a 3000 mm waterproof PU coating. As well as a weather-shedding waterproof rainfly so you never have to worry about the rain or wind getting in. This tent is also great for the hardcore campers who roll at a high pace and want to stay on the move by having the rooftop tent ready to go at all times. The Tent also suits the laid back camper who might be looking to create a functional and relaxed base camp. But before you can look at rooftop tents you're going to need a roof rack.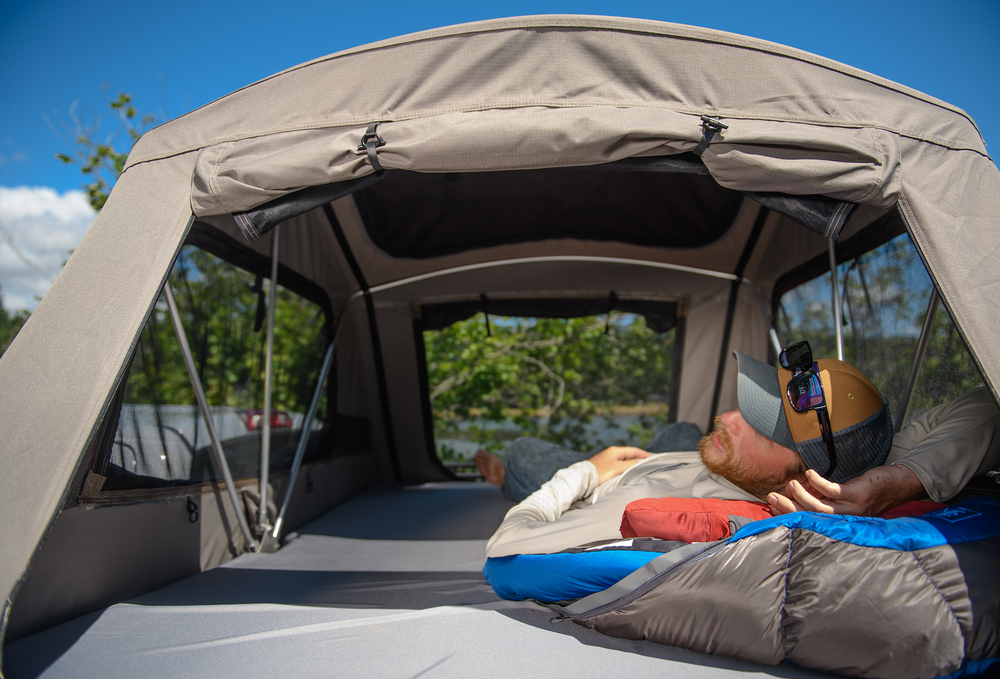 We are often asked about the best roof racks for a rooftop tent. Finding the best option comes down to the type of vehicle you have. Whether you have a tough utility or a stylish SUV our roof racks provide a stable base for a rooftop tent.
CROSSBARS FOR YOUR ROOF TOP TENT 
The Prorack HD Bars are ideal for heavier loads with their heavy-duty design. Combining premium aerodynamics and the ability to securely hold your gear the Prorack HD suits a stylish SUV and maintains a stylish look with its  Smartfoot seamless mounting system. The load strips and integrated tie-down points mean a rooftop tent can be easily loaded and secured to your vehicle.
The Yakima LockNLoad Bars are our super strong roof rack and come in a range of different sizes suitable for many vehicles. Made from powder-coated aluminium with superior e-coating which gives you the best protection against corrosion and excellent performance in the toughest conditions. The east to west direction of the rack means more options when it comes to tying down your load and improves load distribution. Accessories are easy to come by as the roof rack is installed in the usual direction on your vehicle
FIND THE PERFECT OPTION FOR YOUR VEHICLE
Check out our vehicle finder here, Fit my car to discover the best option. You can get the best roof rack option for a rooftop tent. Remember the best roof rack for a rooftop tent is always the option that best suits your vehicle and it's roof rating as well as your camping style. But trust us, once you've camped with a rooftop tent you'll never want to go without one again!